St Brendan's Village, Mulranny, Co Mayo
A Practical Solution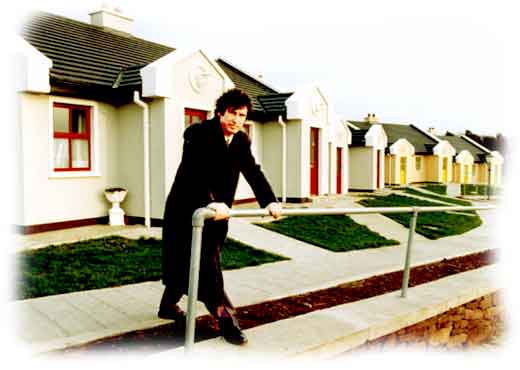 Village Development
The project started in 1984 and set to address the need for all of our citizens, no matter how old or disabled, to have the opportunity to stay in their own area, if that was their wish. For too long we all witnessed the sad silent migration of too many of our older people to faraway institutions. They once had families like us, but due to the ravages of time and emigration they found themselves alone in their sunset years. When they needed our help most we had nothing to offer except to send them to a faraway place where they knew no-one, and like the old Indian, in many cases they just lost heart and died. They returned again to their own area, but in a box.
Our St Brendan's Village Development has not alone stopped this sad migration of our weakest citizens from this area, but has actually reversed it. Thanks to our St. Brendan's Village Development many people have got a new lease of life by returning again back to their own area from these same institutions.
Returned Emigrants
Likewise many of our older emigrants who went abroad in the 40's, 50's and 60's have returned again to their own area after many years of emigration - back to our low support sheltered housing. Here people are living with the minimum of support in the bosom of the community with the support of electronic alarms and Caretaker nuns. People can go to the Centre for their meals or prepare their own meals if they wish.
This is only as it should be, particularly in this 'UN Year of Older People' , that we remember those two groups of forgotten people, both Irish and both elderly, and both groups equally let down by the system.
Rural Regeneration
Yet it is only right that we do this. It is only right also that every community think about doing this in their own area. It's very much a two-way process and a recipe for rural regeneration also.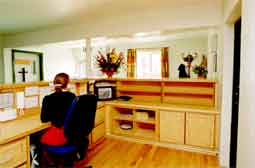 The St. Brendan's Village Project has been a powerful tool for rural regeneration. Keeping people from having to leave and returning them to their own area has a massive humanitarian spin-off for those people who stay or are returned, but it has also helped us regenerate our village.
Our St. Brendan's Village Project is now the biggest local employer in our village. Thanks to those older folk who have returned, we now can provide welcome employment so that many of our young people needn't leave any more to find employment.
Dr Jerry Cowley
Driving force behind the creation of St Brendan's Village has been local General Practitioner, Dr Jerry Cowley, who argues there is a great need to retain people in rural districts.
"Our young people had to go in the past because of a lack of employment. The sad and silent emigration of the elderly was also happening on a daily basis to faraway institutions when they were most vulnerable and alone" In Mulranny St Brendan's Village has stopped that exodus.
But, says Dr Cowley, the Department of Health must give more financial support to maintaining and supporting older people in the community. The need to retain and build on services in rural areas such as day centres and housing is critical and could break the vicious circle of continuing depopulation and further erosion of services.